Are you a hiring manager looking for a recruitment agency in Chester that you can trust? In the fast-paced world of business, finding the right talent is crucial for growth and success. As a hiring manager in Chester, you understand the challenges of recruiting those professionals who can contribute to your company's success. With over 50% of hiring managers currently facing difficulties in the recruitment process, the need for a trustworthy recruitment partner has never been more critical.
At Charterhouse, we take pride in being your go-to independent recruitment agency in Chester, dedicated to helping businesses thrive since 1998. Our unique approach sets us apart – no pushy sales tactics, no 'bums on seats' agenda, and certainly no compromise on ethics. We challenge the recruitment status quo by prioritising relationships over revenue, ensuring that you receive a 5-star service tailored to your specific needs.
You may find our blog 4 Ways a Recruitment Agency Can Help Your Business of interest.
Listening First, Talking Second: A Relationship-First Approach
In our two decades of service, we have honed a listen-first, talk-second ethos. This means understanding your unique requirements, challenges, and company culture before presenting tailored recruitment solutions. Our recruitment agency in Chester specialises in recruiting for roles in Accountancy and Finance, Sales and Marketing, HR, Office Support, and Procurement and Supply Chain.
We believe that if we prioritise people, profit will follow. Unlike many recruitment agencies, we focus on cultivating relationships, leading to an impressive 87% of clients coming to us through recommendations and 76% choosing to work with us exclusively.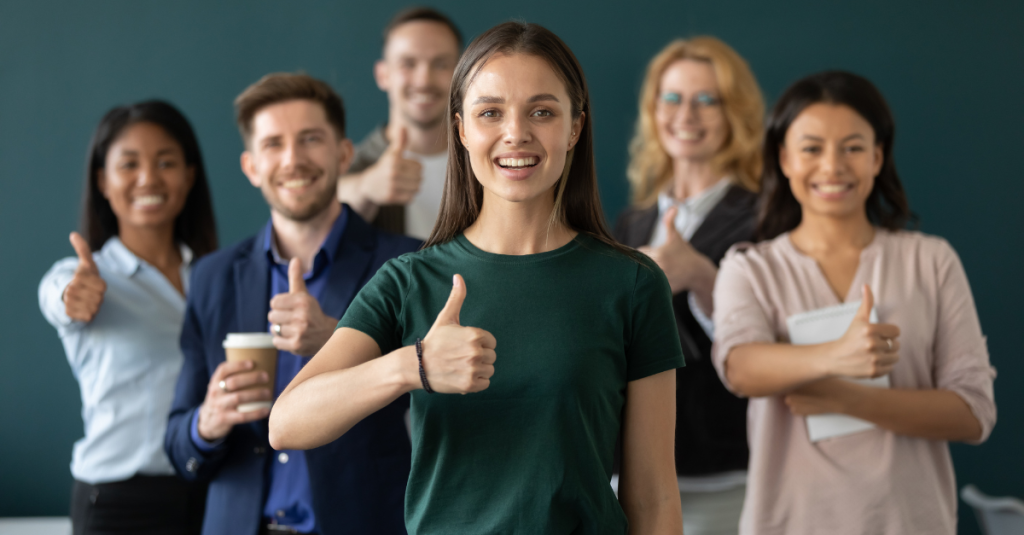 Our 5-Star Service: Why Choose Charterhouse as Your Chosen Recruitment Agency in Chester?
We are committed to providing a 5-star service, done the right way. Our sector-specialist recruiters follow a proven process that ensures your experience is not only painless but enjoyable. Here's why you should partner with Charterhouse:
Relationship-First Focus: We help create positive and long-lasting employee-employer engagements, fostering a collaborative work environment.
Proven Processes: Our robust but slick processes, backed by local market specialists, guarantee efficient and effective recruitment outcomes.
Speed Without Compromise: We prioritise speed without compromising quality, ensuring a swift shortlist to interview process and timely filling of temporary roles.
Decades of Experience: With over 20 years in the industry, our vast network and over 27,000 connections enable us to meet your recruitment needs.
Recognition and Trust: As a trusted, local agency, we've been featured in 3 Best Rated for the last 5 years, showcasing our commitment to excellence. Additionally, our 5-star Google rating, with over 250 reviews from satisfied candidates and clients, is a testament to our prioritisation of people over gimmicks.
The Charterhouse Difference: Beyond the Basics
Our commitment to a relationship-first approach isn't just a tagline; it's the foundation of our recruitment philosophy. We believe in building enduring partnerships with our clients, transcending the transactional nature of many recruiter-client relationships. This approach goes beyond the basics of matching skills and job requirements; it's about understanding the DNA of your organisation, your values, and your vision for the future.
Understanding Your Unique Needs:
We recognise that each client is unique, and so are their recruitment needs. Our consultants take the time to delve into the intricacies of your business, gaining insights into your culture, work environment, and the intangible qualities that make your team exceptional. This deep understanding allows us to tailor our recruitment process to align seamlessly with your objectives.
Sector-Specific Expertise:
With specialists in Accountancy and Finance, Sales and Marketing, HR, Office Support, and Procurement and Supply Chain, we bring sector-specific expertise to the table. Our consultants are not just recruiters; they are industry insiders who understand the nuances of your field. This ensures that the candidates we present not only meet the technical requirements but also resonate with the unique demands of your sector.
Unveiling the 5-Star Process: Your Roadmap to Recruitment Success
Our commitment to a 5-star service is not a mere slogan; it's a tangible promise encapsulated in our proven recruitment process. The Charterhouse 5-star process is your roadmap to recruitment success, meticulously crafted to deliver exceptional outcomes consistently.
Step 1: Comprehensive Consultation
The journey begins with a comprehensive consultation where we sit down with you to understand your current challenges, future goals, and the specific requirements of the role you're looking to fill. This initial phase is all about listening – gaining insights that lay the foundation for a targeted recruitment strategy.
Step 2: Tailored Recruitment Strategy
Armed with the insights gathered during the consultation, our sector-specialist recruiters craft a tailored recruitment strategy. This isn't a one-size-fits-all approach; it's a bespoke plan designed to attract, assess, and secure the best talent for your unique needs. We leverage our extensive network, industry knowledge, and innovative sourcing methods to identify candidates who go beyond meeting criteria to align seamlessly with your organisational culture.
Step 3: Rigorous Candidate Assessment
Quality is non-negotiable in our recruitment process. Every candidate undergoes a rigorous assessment that goes beyond a checklist of skills and qualifications. We delve into their professional journey, motivations, and cultural fit, ensuring that they not only possess the technical prowess required for the role but also align with the values and dynamics of your team.
Step 4: Client-Candidate Connection
We believe in transparency and collaboration. Before presenting candidates to you, we facilitate a connection between you and the shortlisted individuals. This step allows you to engage with potential hires, gaining firsthand insights into their personalities, aspirations, and how seamlessly they integrate into your team.
Step 5: Seamless Onboarding
Our commitment doesn't end with the placement. We guide you through the seamless onboarding of the selected candidate, ensuring that the transition is smooth and sets the stage for long-term success. Our relationship-first approach extends beyond the recruitment phase, fostering enduring partnerships that contribute to your organisational growth.
Choose Charterhouse, Your Recruitment Partner for Success
Let us solve your recruitment challenges, unlock your company's potential, and pave the way for a prosperous future. Partner with us, and experience recruitment done the right way – the Charterhouse way.
We've been helping companies recruit the very best candidates for over 20 years and we'd love the opportunity to do the same for you. Get in touch with our expert consultants today.